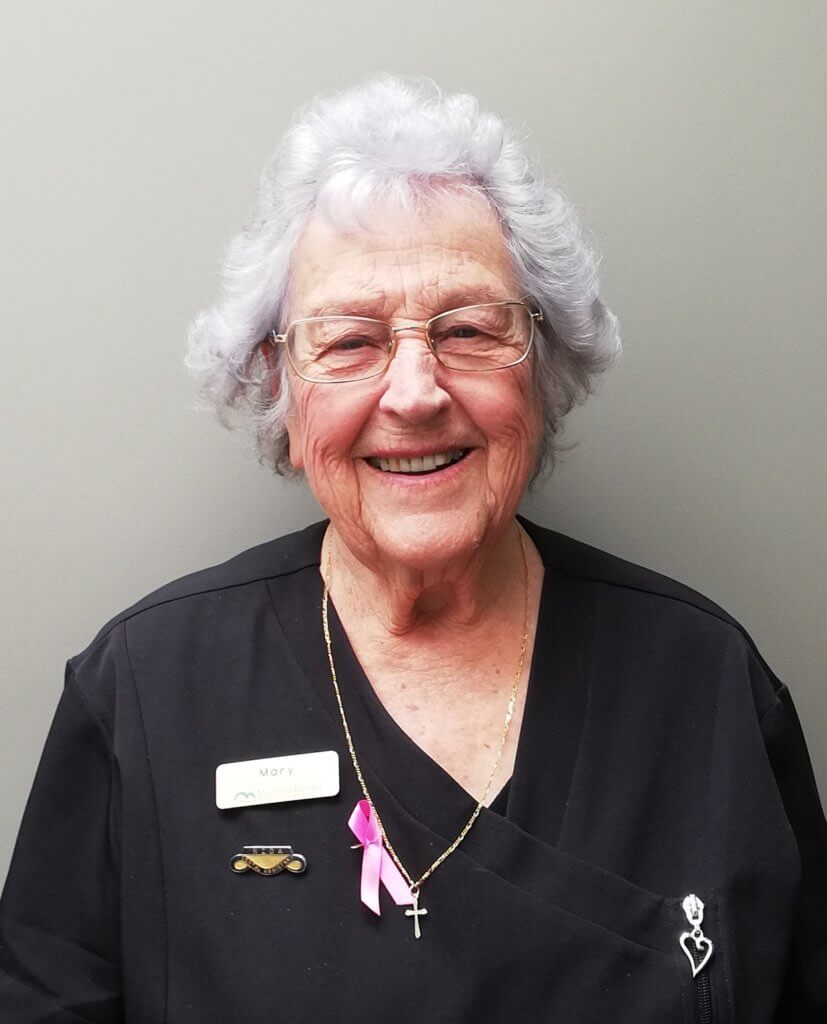 This month Mary McIntosh will be celebrating her 92nd birthday, and incredibly she is still working at McIntosh Dental every week! This year marks the 32nd anniversary of the dental practice, and Mary has been there since day one.
Being the oldest surviving member of the Corban family, Mary is part of the very foundations of Henderson. Longevity seems to run in the family – her Aunt passed away just two months short of her 104th birthday.
Some of Mary's earliest memories are helping out as a child in the winery to put the tops on the bottles of wine, and following the grape pickers to pick up the offcuts – for which she was paid one penny per bucket of offcuts. After 45 years' working at the winery Mary "retired", but this wasn't to last long. Dr Alex McIntosh, her oldest of three sons, was opening a new dental practice on Lincoln Road and thought she would make the perfect receptionist. So at the age of 62 Mary began her new career.
Opening McIntosh Dental wasn't a straight-forward process. Because the area was residential, Mary remembers having to approach all of the neighbours of 43 Lincoln Road and obtain their written agreement to the practice opening. One neighbour, who was strongly against the idea, took a little more convincing than the others that the noise of the dental drills wouldn't be a problem!
McIntosh Dental opened in 1987 with one dentist, one dental nurse, and Mary on reception. Her bubbly personality always helped to distract the patients from their appointments. She still recalls the day she was called to fill in as dental nurse to work chairside – put on the spot with the dental suction and trying to figure out which instrument was which!
And sure enough, her days on reception weren't to last long. Mary embarked on yet another career by studying to be a Dental Assistant, and worked chairside for several years. When she was in her 70's she moved full-circle back to reception and mastered the computer system. For the last eight years she has provided invaluable administrative support, and although she now comes into the practice just one day per week she continues to be relied upon for the banking, shopping and the many weekly ad-hoc tasks that crop up.
Mary has no plans to slow down anytime soon – in fact she has just renewed her driver's license. Every Saturday morning you can find her at the Oratia Farmers Market at Hoani Waititi Marae selling her "world famous in West Auckland" homemade pickles, jams, chutneys and sauces. She also makes up lucky dips for both children and adults for her stand, and donates all of the profits to her church. She makes all of her preserves from scratch, admitting this can be a time-consuming hobby but often peels or chops fruit and vegetables in front of the TV. She says she has worked all of her life and just can't see herself sitting around doing nothing.
And Mary still enjoys her Thursdays at McIntosh Dental. She loves spending time with the 'young people' (as she calls the team), and they make her laugh with their stories. She has always felt that they treat her as an equal and it's a wonderful place to work. Mary is a dearly treasured member of the McIntosh team and we look forward to helping her celebrate her 92nd birthday.