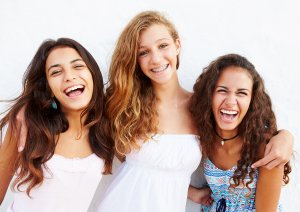 Here at McIntosh Dental, our Oral Health Therapists and Dentists offer the very best free dental for teens from Year 9 until they turn 18 years old.
As a comprehensive family dental practice, we love working with teens. They are going through lots of physical and emotional changes, and puberty can impact on teeth just as much as it does on the rest of the body.
Quality dental care for kids is so important, and the school dental service plays a big role in regularly assessing your child's teeth, catching any dental problems, and advising on good teeth cleaning techniques. The teenage years are the time to build on these healthy brushing habits and set them up for a lifetime of clean teeth and great oral hygiene. Our free basic dental services not only ensure your teen's teeth are clean and healthy, but just as importantly we teach them how to look after their teeth and gums at home. Establishing good habits in these teenage years can make all the difference to maintaining great smiles in adulthood.
As part of New Zealand's free dental care scheme, your teen is entitled to one free dental examination per year. If you notice a problem between visits, such as a tooth ache, you can make additional dental appointments free of charge.
Our free dental services for teens include:
Annual dental check-ups
Teeth cleaning, scaling and polishing
Preventative treatments such as fissure sealants or fluoride treatment
Tooth extractions (non-orthodontic)
We will let you know if more extensive dental treatment is required which is not included under the free services. However, rest assured that we can still take care of all of your teenager's dental needs under one roof.
Orthodontic treatments such as braces and other teeth alignment treatments are also not included under the free dental services for teens.
Not every dental practice offers free dental care for teens. McIntosh Dental is registered to provide these services, so your teen's oral health is in good hands with us. Their smile is one less thing to worry about while you are helping them to navigate their teenage years – take advantage of our free teen dentistry services!
Contact us today to find out more about our free dental for teens.