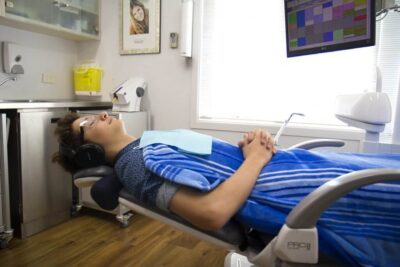 We know that the dentist's chair isn't the place that most people want to spend their time. Even if the end result is exciting, many people suffer from anxiety or fear of the dentist. At McIntosh Dental, we're making a real difference to dental anxiety sufferers with Drift Away Anxiety Management. It's a safe, non-invasive way to keep you relaxed during your appointment by calming your senses and directing your focus onto something else. It is completely suitable for all ages, so even young children can enjoy their dental appointments.
How Does Drift Away Anxiety Management Work?
First, we explain your procedure and answer any questions so that you are completely informed about your appointment and dental treatment.
Next we set you up with a soft, warm blanket and noise-cancelling headphones. You can choose a movie from our extensive movie collection to watch, then just sit back and relax. That's all there is to it! The noise-cancelling headphones are so effective that you may not be able to hear a single dental drill. You can focus on your movie stress-free.
Whether you are a nervous dental patient, booked in for a long or involved procedure, or simply wanting to catch up on a great movie while we take care of your teeth, Drift Away Anxiety Management makes your dental treatment more enjoyable than you could have imagined. All that's missing is the popcorn!
Drift Away Anxiety Management is a safe, easy yet really effective option for anyone who is nervous of going to the dentist, regardless of their age.
CONTACT US TODAY TO FIND OUT IF DRIFT AWAY ANXIETY MANAGEMENT IS AN OPTION FOR YOU.