Everyone deserves their own perfect smile, but sometimes that perfect smile needs a little help. That's where we can help. As some of the best orthodontics providers in Auckland, we have been helping our patients with their own perfect smiles for more than 30 years. We still love seeing every single result of beautiful straight teeth, and the real difference it makes to our patients' confidence.
We offer a range of orthodontic options including our new range of incredibly discreet metal braces, coloured braces, clear braces and Invisalign clear aligners.
Regardless of your issues and however you want to improve your smile, we would love to be part of your journey in creating beautiful straight teeth and your unique perfect smile.
Straight, white teeth: the key to self-confidence at any age
McIntosh Dental have been leading orthodontic providers in Auckland for more than 30 years. The technology of braces has advanced hugely over these years. Gone are the days of rigid metal braces wires which not only looked unsightly, they also required manual tightening every month resulting in considerable pain and discomfort. Now the latest technology in orthodontic treatment includes choices of metal, coloured or clear brackets, Invisalign clear aligners, and coloured wire options. The flexible wires are designed to apply a minimal amount of steady pressure to the teeth – so discreet and minimal that the aching pain and discomfort of having braces is a thing of the past.
It's not just the technology of dental braces which has advanced – so has our understanding of Full Face Orthodontics. Some orthodontists routinely recommend the extraction of teeth to gain space in the mouth where overcrowded teeth are an issue. However, research and experience have shown that this can lead to narrow smiles and a "dished-in" facial profile in later life. Here at McIntosh Dental, we practice Full Face Orthodontics for optimal results, including a fuller, broader smile with a pleasing facial profile, and less need for extractions to gain space.
At McIntosh Dental we embrace the very latest technology to give you superior results. When you begin your orthodontic journey we do not take messy molds of your teeth. Instead, we use the iTero Digital Scanner to quickly and accurately scan your mouth to create a 3D image which allows us to show you what your new smile will look like at the end of your treatment!
We believe that everyone is entitled to affordable braces so they can have the smile they deserve. We understand that it can be difficult for some people to manage the cost of braces, so we have developed OrthoPlan. OrthoPlan is an orthodontic payment plan to help spread the cost of braces over the course of treatment.
Do I Need Braces?
Can you answer "Yes" to any of these questions?
Top front teeth that stick out ("bucked teeth")?
Top front teeth that cover more than 25% of your bottom teeth when you bite together?
A visible space between the top and bottom teeth when you bite together?
Bottom teeth that are in front of the top teeth?
Teeth that are crowded or overlapped?
Baby teeth falling out very early or very late?
Extra teeth present?
Top and bottom front teeth with centres that don't line up?
Problems with biting the cheek, gums or tongue?
Difficulty chewing or biting with teeth that don't meet evenly on both sides?
Teeth that are wearing unevenly?
Jaws that shift off centre when the teeth bite together?
Large gaps between teeth?
What is Orthodontics?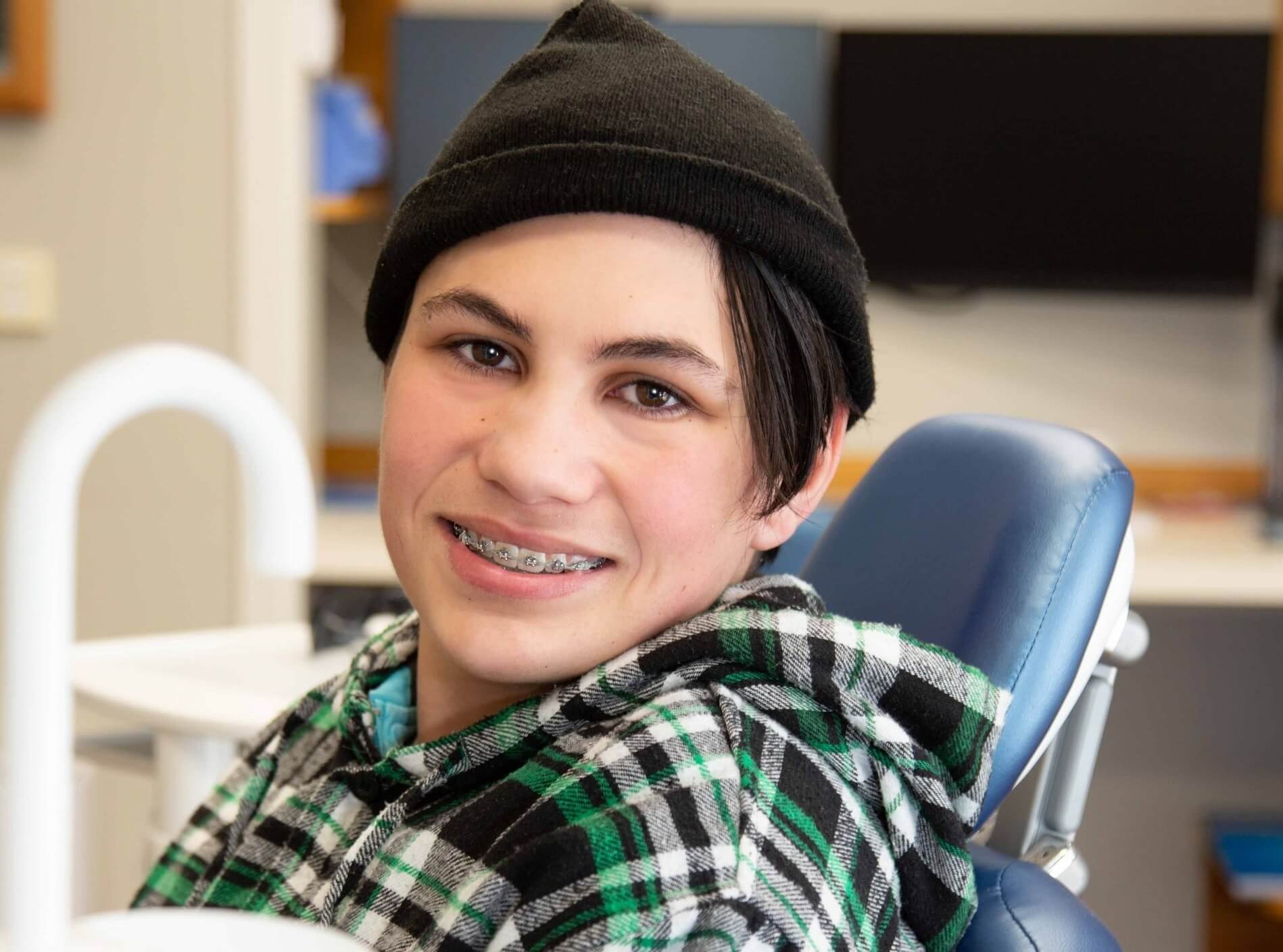 Orthodontic treatment includes the diagnosis, prevention, and treatment of dental and facial irregularities. Such irregularities often take the form of 'malocclusion' (bad bite – a problem in the way teeth fit together).
Malocclusion affects more than just appearance:
Crooked, crowded, or protruding teeth are more difficult to clean
Misaligned teeth can create tension and pain in the jaw joints
Social problems can arise because of the effect on speech and the unattractive appearance.
The first step in seeing if you need braces is a consultation with one of our dentists. This appointment will give you an idea of the type of treatment required and the approximate fees.
The next appointment involves a full examination of the teeth. This may include measurements, photographs, study models, and x-rays of the head, jaws, and teeth.
Contact Us
If you suspect that you or a family member may need braces, you will be in good hands with our full range of orthodontic services. Contact us today for a consultation.