At McIntosh Dental Centre we believe that the health of your mouth and your teeth have a greater effect on the overall health of your body.
Routine dental examinations and x-rays are necessary to identify potential dental and medical problems that might be completely hidden from the naked eye. Even some problems such as gum disease and tooth decay might go unnoticed.
Untreated dental problems can lead to much more serious issues such as bone loss, strokes, heart disease, infection, and many others.
We offer our patients the very best in diagnostic dental equipment and highly recommend regular check-ups to ensure the health of your teeth and mouth contribute to your overall health and wellbeing.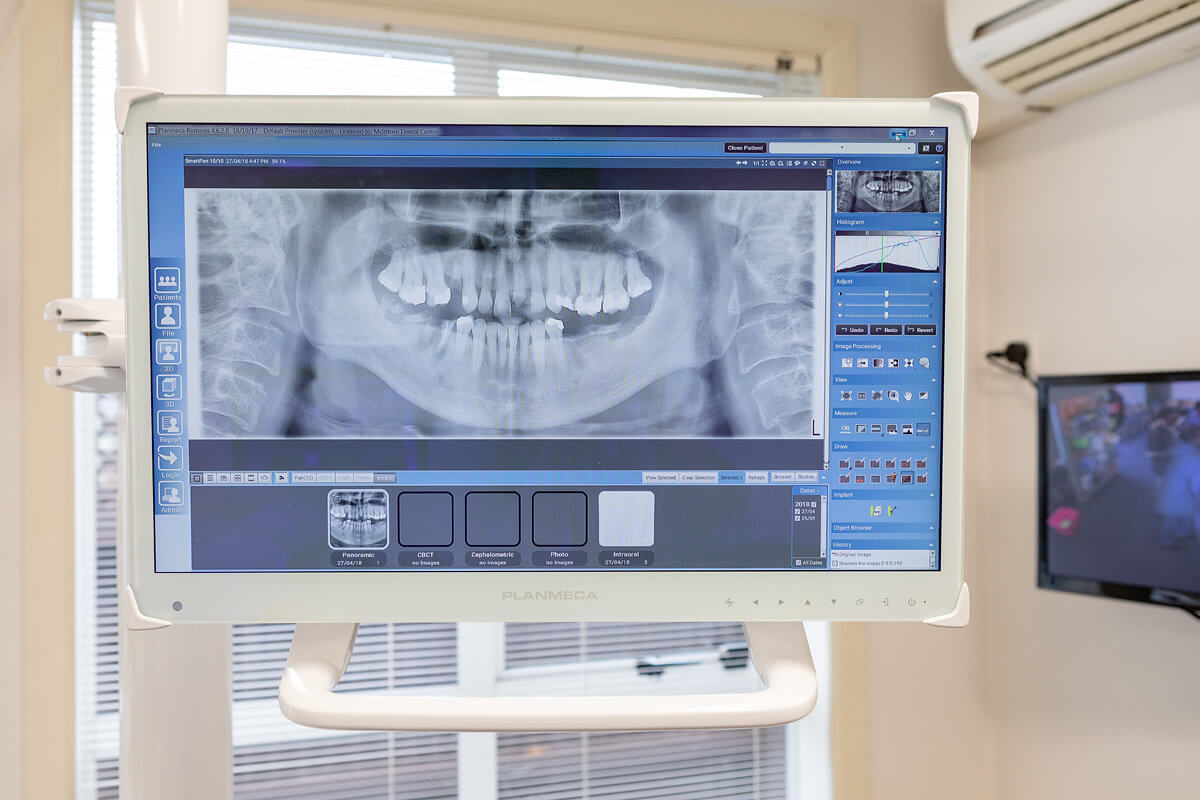 Diagnostic Skull X-Rays
Dental x-rays are an essential tool for allowing Dentists to see beneath the surface of your teeth and gums, as examinations only provide half of the story. Tooth decay and dental issues can be detected on x-rays even in patients who are not experiencing any symptoms at all.
Our comprehensive x-ray facilities here at McIntosh Dental include a dental Cone Beam CT scanner, which uses advanced technology to provide 3D images of your teeth and jaws. It produces high-quality, detailed images that are invaluable for detecting dental problems in the jaw and skull. Because it captures the position of fully-emerged as well as emerging teeth, the Cone Beam CT scanner is particularly useful for diagnosis and treatment planning for impacted wisdom teeth, dental implants, difficult endodontic cases, and for intricate orthodontic cases.
At McIntosh Dental, your safety and wellbeing are paramount, so our x-rays are conducted under the highest safety precautions. Diagnostic skull x-rays are a safe and painless way to provide us with all of the information we need to diagnose difficult dental issues and plan the best course of treatment.
Undergoing A Diagnostic Skull X-Ray
Diagnostic skull x-rays are a quick and painless procedure, and suitable for all ages. You will be required to remove any earrings, glasses, jewellery, hair clips, dentures, orthodontic appliances or any other items which may create objects on the x-rays, particularly if they contain metal. The x-ray cycle takes approximately 20 seconds, during which time you will need to stay absolutely still while the machine moves a 360-degree rotation around your head. It takes multiple images from a variety of angles which are then reconstructed to develop a single 3D image.
Contact us today to find out more about our diagnostic skull x-rays.