Our team of expert dental surgeons, led by Dr Alex McIntosh, has been providing high-quality dental implant services since 1985. With 37 years of experience, we are dedicated to improving our patient's oral health and lives through advanced dental implant procedures.
Full-Mouth Teeth Replacement with New Teeth On 4
Are you tired of living with dentures or missing teeth? Are you looking for a permanent solution to restore your smile and improve your oral health? Look no further than New Teeth On 4, a revolutionary dental procedure that replaces all of your teeth in just one day.
New Teeth On 4 is an all-on-4 dental implant system that requires only four implants to be surgically placed into the jawline. The implants act as the roots, allowing a full set of new teeth to be permanently attached to them. The process involves no bone grafting and uses titanium, which fuses with the jawbone and will not decay like natural teeth.
Key Benefits of Surgical New Teeth On 4 Dental Implants
Stable, solid fully-fixed teeth
Only four implants are required
Short treatment time – just one day
Cost effective
Excellent aesthetic results by restoring your smile
You are able to chew and eat straight away
Easy to maintain
Can last for many years with good oral health routines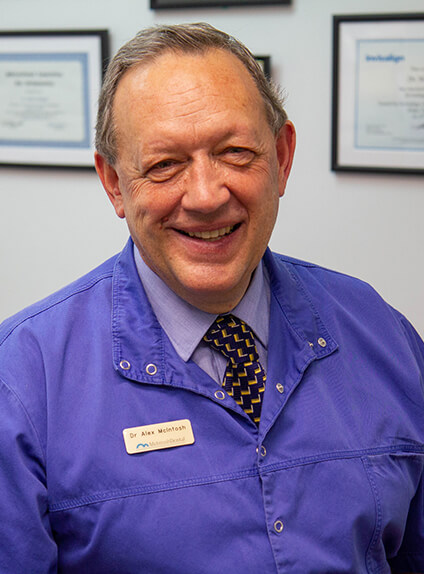 Watch Nigel's New Teeth On 4 Story
Your New Teeth On 4 Journey
Our team of dental implant experts will guide you through every step of your New Teeth On 4 journey. From your initial consultation to your post-operative care, we will make sure that you are fully informed and comfortable every step of the way.
Watch Nigel's New Teeth On 4 Story and see how this revolutionary procedure changed his life.
Your Dental Implant Experts
Dr Alex McIntosh is one of the country's most experienced dental surgeons in implant dentistry, especially in advanced complex cases. With a focus on continual improvement of methods, technology, and materials, Dr. McIntosh has a wealth of knowledge and expertise in dental implant surgery and prosthetics. He is passionate about helping patients restore their smiles and oral health with New Teeth On 4 dental implants.

Patient Testimonial
Hear from one of our satisfied patients, M.W., who shares her experience with New Teeth On 4 dental implants.
"I hated having a plate. It felt unnatural, and even with the adhesive, it did not feel secure. It also had to be removed and soaked at night – especially inconvenient when travelling. New Teeth On 4 dental implants were a comprehensive solution and presented as excellent new technology. I had no concerns as I was fully informed about the process. The implants are a vast improvement on the plate. I would recommend this treatment to others, and definitely recommend Dr. Alex McIntosh and his team to others contemplating having this treatment."
If you are interested in learning more about New Teeth On 4 dental implants and how they can benefit you, please contact us today. Our friendly and knowledgeable team will be happy to answer any questions you may have and help you determine if New Teeth On 4 is the right solution for you.
Don't wait – schedule a consultation today and start your journey towards a healthier, happier smile!

Contact us to find out if New Teeth On 4 dental implants could be right for you.