Pave The Way To New Beginnings
Missing teeth can make you feel self-conscious and less confident in social situations. Dental implants can give you confidence by improving your appearance and restoring your ability to eat and speak properly. Our dental implants offer a natural looking and long lasting solution to replace missing teeth, which can significantly enhance your self-esteem and confidence. With dental implants, our Auckland patients can smile, eat and speak with ease, knowing that their teeth look and function just like their natural teeth. This renewed sense of confidence can positively impact your personal and professional life, leading to a more fulfilling and happy life.
Here at McIntosh Dental, we proudly offer the dental implants our Auckland patients need to bring out their best smiles. We are here to guide you through what is involved with your tooth implant in our Auckland clinic. If you have questions or would like to chat, please get in touch with our friendly team.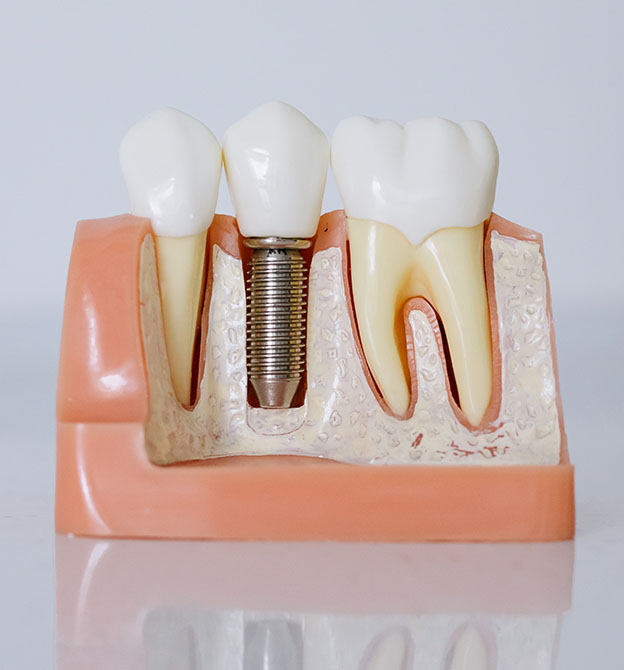 Our Dental Implants Are The No-Compromise Solution For Missing Teeth
Although you may have lost your teeth, our dental treatments can fill in the gaps and restore your smile to its former glory. At our clinic, we offer a permanent solution to this temporary problem. Our high success rate speaks for itself and we take pride in being the leading provider of dental implants in Auckland. With our state of the art technology and experienced team of dental professionals, we can help you achieve a beautiful and healthy smile that will last a lifetime. Don't let missing teeth hold you back any longer – discover the transformative power of dental implants by contacting us today.
What Are The Benefits of Dental Implants?
Normal-looking teeth used to replace damaged and unsightly teeth.

A tooth implant for Auckland patients is a painless procedure with local anaesthesia and a choice of non invasive anxiety management to keep you relaxed.

Implants are a safe and permanent alternative to dentures to help you smile with confidence.

Dental implants are permanently fused into your jawbone giving your denture and bridges a stable base.

Restore your ability to eat and speak with full or partial dentures.

Stable and long-lasting solution.
Choose What's Best For Your Smile
As experts providing dental implants in Auckland, we'll give you the low-down on three unique dental implant surgery treatments that can change your life for the better.
Implant Crowns
Missing teeth can be unsightly and cause problems with bite alignment and oral health. Fortunately, an implant crown can restore your smile and maintain your bite and alignment, allowing you to speak and eat with ease. This option is an excellent solution for replacing a single missing tooth, as it attaches to the implant, acting as the root of the missing tooth to fill the gap and show a crown, the visible part of the tooth.
Implant crowns look and function like natural teeth and we can match their colour to your other teeth. They can be made of porcelain, ceramic, gold or a combination of these materials. With an implant crown, you can have an instant smile that looks and feels natural.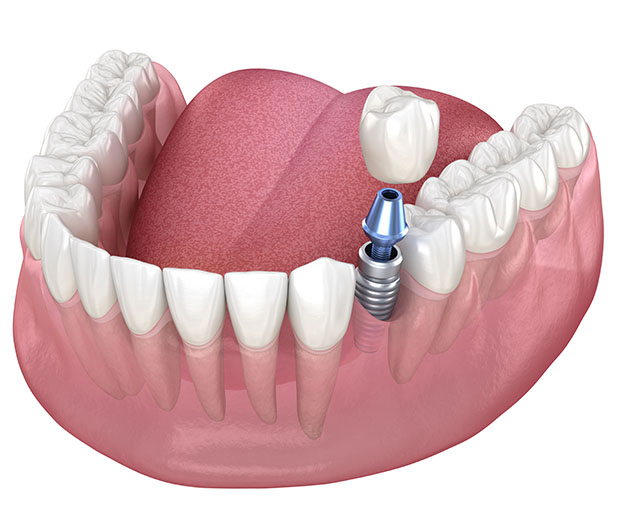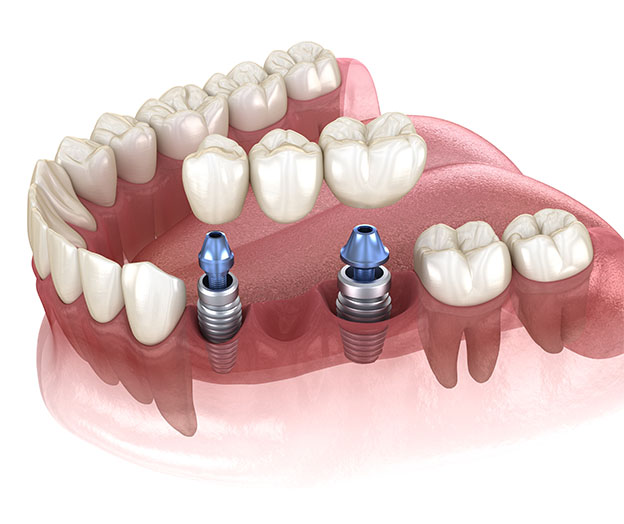 Implant Bridges
Missing teeth, whether caused by injury or poor oral health, can spoil the aesthetics of your smile and cause issues with bite alignment and speaking and chewing properly. At our clinic, we offer a dental bridge solution to bridge the gap created by one or more missing teeth. This device acts as an abutment to support the implant, which is then connected to the surrounding remaining teeth to form one bridge piece that holds the implants in place.
For replacing a single tooth, the implant works in the same way as regular dental bridges but it is supported by implants into the jaw rather than being attached to the surrounding remaining teeth. With this solution, you can restore your smile and improve your bite and alignment, giving you the ability to chew and speak with ease.
New Teeth on 4 Dental Implants
At McIntosh Dental, we provide a permanent solution to removable dentures with the New Teeth on 4 Dental Implants procedure. Our experienced dentists have been placing dental implants since 1985 and offer a full-mouth all-teeth replacement option for patients who wear dentures and are facing the possibility of losing their teeth.
By placing four dental implants in a single jawline, a new set of teeth can be permanently attached to act as tooth roots. The result is natural looking and feeling teeth that allow you to eat and chew as you would with your original teeth. Practising good oral hygiene daily is crucial for the long term success of your dental implants.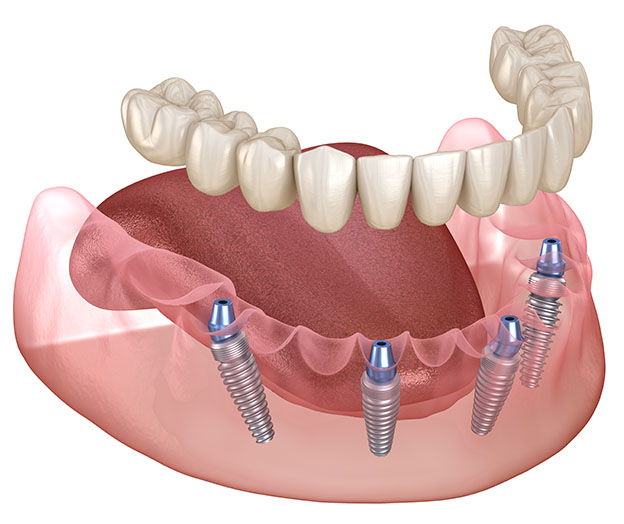 One dental implant gives you a world full of good. Find out How placing one type of implant changed our Clients' Lives…
"I hated having a plate. It felt unnatural, and even with the adhesive, it did not feel secure. It also had to be removed and soaked at night – especially inconvenient when travelling. New Teeth On 4 dental implants amounted to a comprehensive solution and presented as superior new technology.

I had no concerns as I was fully informed about the process. The implants are a vast improvement on the plate.

I would recommend this treatment to others and recommend Dr Alex McIntosh and his team to others contemplating having this treatment."
M.W., September 2019
Affordable Payment Plans
At McIntosh Dental, we understand that dental restoration can be expensive. That's why we offer dental implant consultations with practical, flexible and scheduled payment options to help manage the cost of your dental implant without sacrificing your lifestyle.

By choosing us, you can focus on regaining your health, confidence, functionality and that priceless smile. We believe that investing in yourself is always worth it and we promise to provide affordable options to help you achieve your dental goals. Contact us today to learn more about our payment plans.
Meet Your Dental Implant Expert
For over 37 years, Dr Alex McIntosh has been dedicated to creating beautiful smiles through dental surgery and implants. He is committed to improving methods, technology, materials and benefits of dental implants, which has resulted in his advanced knowledge and expertise in dental implant surgery and prosthetics.
As one of New Zealand's most experienced dental surgeons in implant dentistry, Dr McIntosh has expertise in handling advanced complex cases. He is eager to assist you with your dental implant needs in Auckland.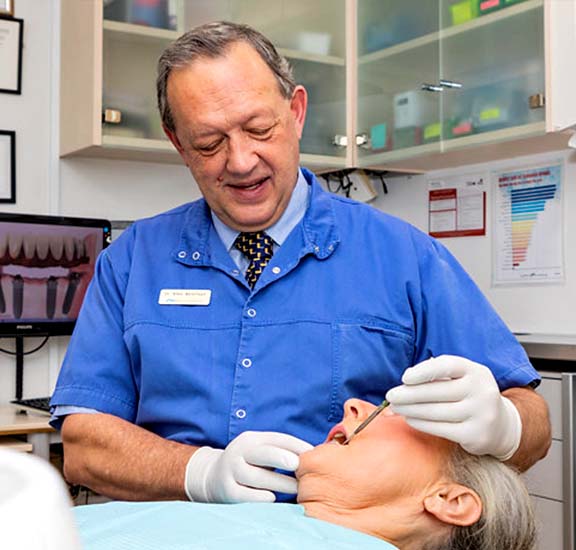 Frequently Asked Questions
What are dental implants?
Dental implants are an excellent solution for replacing missing or damaged teeth with artificial teeth that closely resemble natural ones in appearance, sensation and function. These implants are secured to the jawbone with titanium screw-like posts, providing a comfortable and effective alternative to ill fitting dentures or bridgework. Before implant placement, the condition of the jawbone is thoroughly examined and the implants are carefully inserted or drilled into the jawbone. The main advantages of implants include replacing missing teeth and providing sturdy support for new teeth, which involves the bone healing tightly around the implant.
What are dental implants made of?
Dental implants are typically made of a biocompatible material called titanium. This material is highly durable, lightweight and resistant to corrosion, making it an ideal choice for dental implants. The implant itself is a small, screw-shaped post that is inserted into the jawbone to serve as the root of the artificial tooth. Once the implant is placed, a dental crown or bridge is attached to the top to replace the missing tooth or teeth. In some cases, zirconia or ceramic materials may also be used for dental implants, especially for those with metal allergies or a preference for a more natural looking restoration. We can help determine the best material for your specific needs and preferences.
Who should get dental implants?
Dental implants are a great option for people who have lost one or more teeth due to injury, decay or other dental issues. If you have good oral health and sufficient jawbone density, you may be a good candidate for dental implants. You should be committed to maintaining good oral hygiene and regular dental checkups to ensure the long term success of your implant. People with certain medical conditions, such as uncontrolled diabetes or cancer, may not be good candidates for dental implants. We can evaluate your individual situation and help determine if dental implants are the right choice for you.
Where are dental implants done and how do you manage anxiety?
At McIntosh Dental, we understand that the dentist's chair can be an intimidating place for many people. However, dental implant surgery can be safely performed in the comfort of our clinic. To make the experience more pleasant for those who suffer from dental anxiety, we offer Drift Away Anxiety Management. This innovative approach provides a safe and non-invasive way to keep patients relaxed during the procedure by redirecting their focus and calming their senses. We provide a warm, soft blanket and noise-cancelling headphones and patients can even choose a movie from our extensive collection to watch during the procedure. With our anxiety management plan, patients can sit back, relax and feel more comfortable throughout the entire process of getting dental implants in Auckland.
Are dental implants expensive?
We believe that replacing missing teeth with dental implants is a valuable investment that can improve your quality of life. We understand that paying for dental implants can be a concern for some patients, which is why we offer a range of flexible payment and installment options that allow you to attain the full restoration of your smile without sacrificing your lifestyle. With our flexible payment plans, you can achieve a beautiful and healthy smile without breaking the bank.
Are dental implants safe?
Our team of Auckland dentists has been performing dental implant procedures for over 30 years with a high success rate. For patients in good health, there is minimal risk of major complications. Research has shown that dental implants have a high success rate, with 90 to 95% still in good condition after ten years and a success rate of 95-98% over a period of 40-50 years, according to some studies.
It is essential to have good dental health before undergoing the procedure, particularly for an artificial tooth root operation. Patients with severe periodontal disease will need to manage their condition before becoming eligible for a tooth implant in Auckland.
Make Your Smile Count
Learn more about dental prostheses and how you can achieve a spectacular smile! Get in touch with us and we can explain the process of getting a tooth implant in Auckland or if you already know you want dental implants, then simply book your appointment with us today.