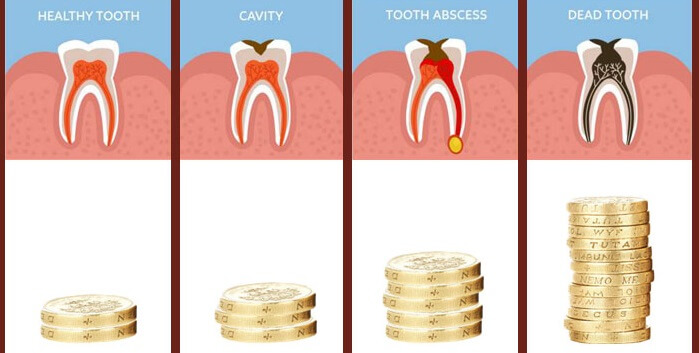 There are few New Zealand families who have not been financially impacted by the COVID-19 crisis. Reduced hours, reduced wage rates and job losses have unfortunately become commonplace over the past few months and we are all too aware that financial recovery for individuals and businesses will be a slow process.
Coronavirus has delivered a sharp lesson and forced most of us to look critically at our spending and devise ways to economise until hours and wages return to "normal".
Typically when the economy slows, discretionary spend on dentistry decreases. Unless we require urgent care, we begin delaying the dentist appointments until we feel more financially secure. However, this can be a false economy as research shows that people who see a dentist and oral hygienist regularly are likely to need the least amount of dental treatment and of course spend less in the long run.
For example, often a cavity only begins to hurt when it reaches the nerves in the centre of the tooth. But by this stage a simple filling may not be enough – it may require a root canal and/or a crown which are much more invasive and expensive procedures.
At McIntosh Dental we recently saw a patient who had been delaying the dentist for 10 years. He woke up suddenly one morning in absolute agony and required emergency dental treatment during Alert Level 4 with a tooth abscess. He needed a series of costly treatments to successfully eradicate the abscess while avoiding extraction. If he had maintained regular dental appointments over those 10 years he could have avoided that pain, stress and sudden financial burden. That one tooth cost him considerably more than he would have spent on standard dental treatments over the 10 year period.
Another example of prevention being better than cure is a patient with a cracked molar who we examined earlier this year. She could not remember the last time she had been to the dentist and because she was not in any pain she believed her teeth were healthy. While the cracked molar was relatively straight forward to fix by replacing the filling, unfortunately we also found the patient had periodontal disease. Periodontal disease is gum disease with increasing stages of severity, and because this patient had not seen a dentist for so long her periodontitis was now at a moderate level. Although it is believed to affect 50% of Kiwi adults, it is very preventable with regular dental treatments and good oral hygiene habits. This patient now requires an intensive treatment programme of regular deep cleaning scaling and root planing to prevent further deterioration, at a cost that far out-weighs regular annual check-ups and hygiene appointments.
We are fortunate in New Zealand to have free general dental care for children and teenagers up until their 18th birthday. Maintaining preventative dental care in your adult years is not only good for your health – it's also good for your budget! Prevention is always better (and cheaper) than repair.