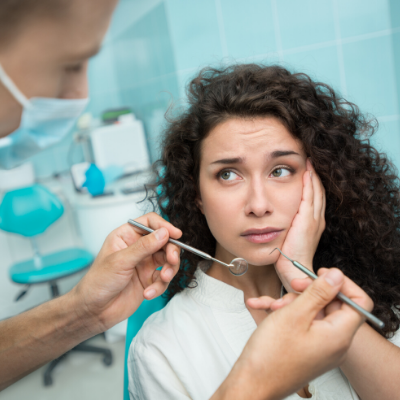 Some of us regularly put off going to the dentist. We may have good intentions, but, like changing your oil, reviewing your insurance cover, or cleaning out the pantry, it's all too easy to delay and you can suddenly find that a surprisingly long time has passed since your last visit.
For most people it is recommended to see your dentist for an annual check-up and x-rays (unless there are dental issues that need to be monitored more often). Dental hygiene appointments have become increasingly popular in recent years with the valuable role they play in preserving your oral health and your dentist will generally recommend a hygiene appointment for an in-depth clean once or twice per year too. But what happens if you don't see the dentist for a long time? Let's look at what might happen if you put off going to the dentist for long periods of time.
18 Months Between Dental Appointments
Okay, so let's say your annual check-up reminder came and went and it's now been 18 months since your last appointment. What might be going on with your mouth?
During this time you could be developing new cavities, small cavities could be increasing in size, and/or you could be in the beginning stages of gum disease, which leads to gingivitis. This will most likely occur if you don't have good brushing and flossing routines, and if you have a diet high in sugary drinks or foods.
Over Two Years Between Dental Appointments
Now let's say it's been over two years since you visited the dentist. At this point, any dental cavities might be getting to the point of needing more than just a filling. Tooth sensitivity and pain are typical symptoms, and where a filling isn't sufficient a root canal and crown may be necessary to save the tooth. That's not only painful but a lot more expensive than a simple filling.
In two years, gum disease, which is the first stage of periodontal disease, can progress into periodontitis which damages the soft tissue and leads to bone loss.
Five Years Between Dental Appointments
Five years might sound like a long time but it's amazing how quickly time flies, especially with Covid lockdowns and restrictions regularly interrupting life.
In five years, a small cavity can progress to either needing a root canal or the tooth can potentially become non-restorable and need to be extracted. Over a five-year period, periodontal disease is likely to progress to substantial bone loss, leading in turn to tooth loss. Treatment will be complex and expensive.
Ten Years Between Dental Appointments
Now let's talk ten years, a whole decade since you last reclined in a dentist's chair and let them examine you. Sadly, there are people, such as those who suffer from dental anxiety, who haven't seen the dentist for ten or more years, and their anxiety can be compounded by the realisation that they now have substantial problems in their mouth that will require involved treatment.
After ten years, dental decay and periodontal disease might be affecting multiple teeth. And it won't just be your teeth that are suffering – poor oral health impacts on your immune system and the rest of your body.
These are all compelling reasons to prioritise those examinations, x-rays and oral hygiene appointments. It's not just a sales pitch from the dental profession – if you don't see the dentist for a long time it is likely to cost you more stress, money and pain in the long run.
Going twice a year may not be achievable for everyone, in which case there are steps you can take to keep your teeth and gums as healthy as possible in-between visits to the dentist. Have an excellent brushing and flossing routine at home – never skip the flossing! Limit sugary foods and drinks, drink plenty of water and if you are a smoker then this is yet another reason to quit smoking.
Visiting your dentist and dental hygienist every year means catching cavities early and treating them before they deteriorate into bigger, more expensive dental issues. If you haven't had a check-up lately, please contact us on (09) 837-2598 today to schedule an appointment – we'd love to help!