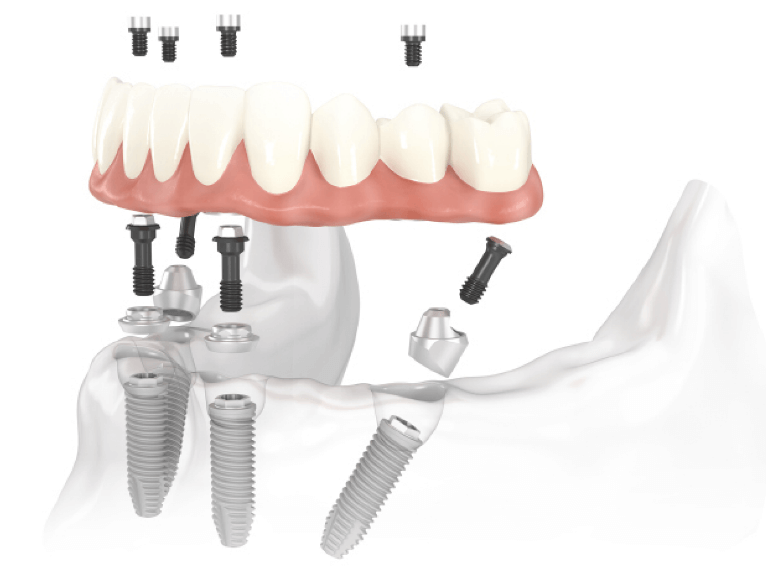 Dental implants are a successful way to replace single or multiple teeth, and are an ideal alternative to wearing dentures. But while they look great and are an effective long-term solution, many of our patients worry about potential downsides and specifically ask the major question: are dental implants painful?
Dental implants use advanced dental technology to replace one tooth, several teeth or a full upper set, lower set or both. Titanium posts or frames are surgically implanted into the jawbone and provide the foundations for mounting replacement teeth on to. This oral surgery procedure is performed under local anaesthetic which numbs the entire area, so there is no pain or discomfort during the surgery. As dental and oral surgery experts, we carefully manage your anaesthetic to ensure the entire procedure is safe, painless and you remain completely comfortable throughout. At most you may feel some pressure but it will not hurt.
Sleep Dentistry
For patients who suffer from dental anxiety, we also offer Sleep Dentistry options:
Oral sedation
Nitrous oxide
IV sedation
Sleep Dentistry is a great way to help you stay calm and relaxed throughout your oral surgery. It is extremely safe and we monitor you continually throughout the process.
Managing Post-Procedure Pain
As with all of our dental procedures, we make sure you are fully informed with detailed post-care instructions to help you stay comfortable and optimise the healing process after having dental implants. The healing process can last up to ten days. Post-care may include:
Managing any initial pain and discomfort once the anaesthetic wears off with paracetamol or ibuprofen.
Applying an ice pack or cold compress to your face to reduce inflammation, swelling and bruising. Swelling should subside within around five days.
Regular warm salt water soaks. Slight bleeding is normal for the first few days.
Avoiding hard foods and very hot foods/beverages for the first 1-2 weeks while your gums feel tender.
Arranging to take 2-3 days off work, and avoiding strenuous exercise for the first 10 days.
What Our Dental Implant Patients Say: Are Dental Implants Painful?
Our dental implant patients agree that the anaesthetic effectively kept them totally pain-free during the surgery. The vast majority experienced minimal pain or discomfort following the procedure, and reported that this was easily managed with standard painkillers. In fact, many said that a tooth extraction was more painful afterwards than the dental implants were. Most did not need to take painkillers after the first 3-4 days. They were also impressed with how quickly they could eat a full range of food again. Previous denture-wearers have been delighted that they can eat hard, chewy foods again as the dental implants are strong and fully-fixed, unlike dentures.
Dental implant surgery has a very high success rate and can significantly improve quality of life. While the idea of oral surgery may seem daunting, you will not experience any pain during the surgery and the post-operative process can be easily managed to minimise any pain and discomfort while you are healing.
Contact us to find out if dental implants are right for you.