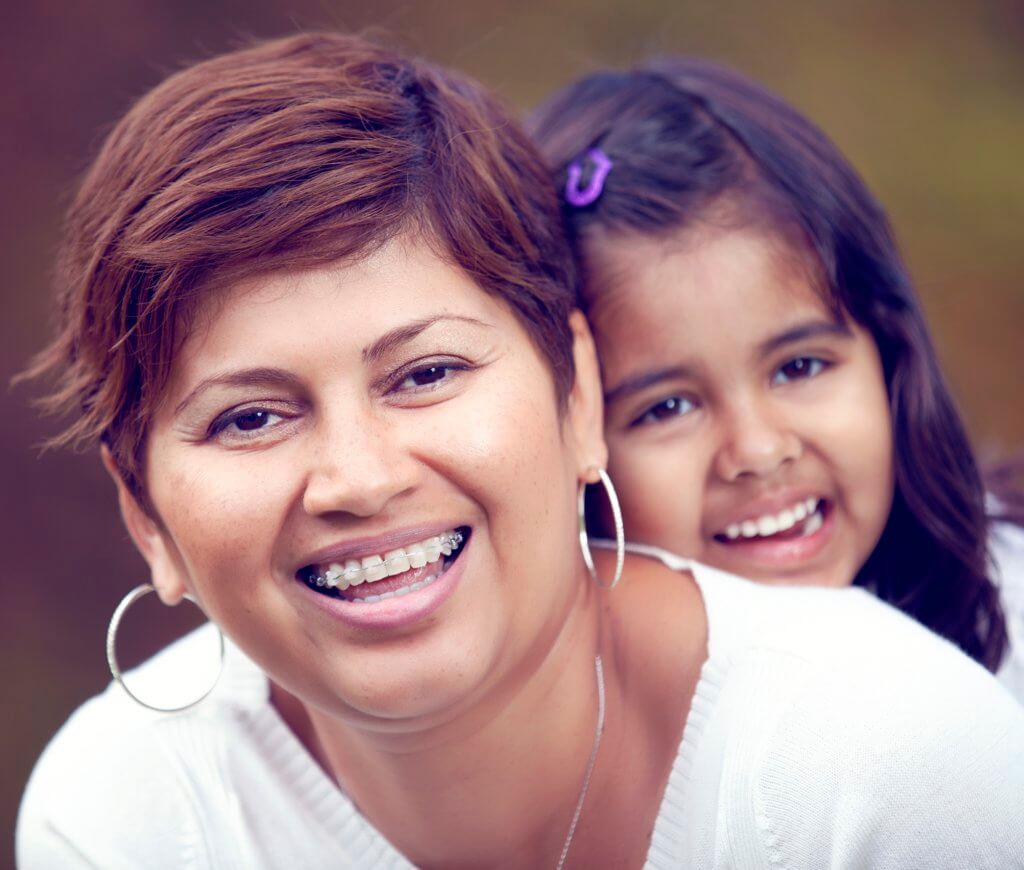 Are you one of the many adults who would love to have straight teeth but worry that you are too old for braces? Actually you are never too old for adult braces! About 15% of our orthodontics patients are adults. A great smile plays a big part in self-esteem and self-confidence at any age, transforming you both physically and emotionally. In fact, the biggest complaint that most of our adult orthodontics patients have is that they wish they had started treatment earlier!
With so many technological and aesthetic developments in orthodontics, there's never been a better time to begin treatment. Depending on your specific needs, today you have several great options to choose from:
Traditional metal braces – which are much smaller and more comfortable than ever before.
Coloured braces created using coloured bands around the metal brackets. If making a fashion statement sounds like you, you can choose from a huge range of colours and easily change them as you progress.
White or ceramic braces which are natural tooth-coloured brackets paired with traditional wires. They are much more discreet than metal brackets as they are only obvious from closer. You can also choose between all upper and lower ceramic brackets, or a combination of ceramics on the front teeth and metal at the back and/or lower teeth.
Invisalign clear aligners that move your teeth incrementally. They are virtually invisible and easily removed just like a mouthguard for eating, drinking and brushing your teeth.
Braces or Invisalign will easily fit in with your current lifestyle as you will still be able to socialise, dine out, give presentations – everything you would normally do.
Lisa's Story: Wearing Braces As An Adult
Lisa is one of our adult patients who celebrated her 40th birthday this year and has recently had braces put on.
Q. Why did you decide now was the time to get braces?
A. I've always wanted to straighten my lower front teeth for cosmetic reasons. I also thought braces would help to close the food traps in my back teeth. I'd been thinking about starting orthodontic treatment for a long time and this year I've had some pain I thought was toothache but is actually nerve pain triggered by a misaligned tooth. It just seemed like the health of my teeth and the pain/discomfort was only going to get worse if I didn't start braces. Plus, it's been a crazy, stressful year and this was a chance to do something nice for myself.
Q. What type of braces did you choose and why?
A. I chose ceramics for the cosmetic appearance. The natural tooth colour of them makes them much less obvious.
Q. Have they been very uncomfortable and hard to get used to?
A. Early on my teeth were extremely sore and I found it hard to eat and speak. It took a while to get used to the brackets as they rubbed and created sore patches in my mouth. I took paracetamol regularly and used wax until everything settled down, which wasn't too long.
Q. What have the reactions from your family, friends and work mates been like?
A. Most have been really keen to see what they are like and how much they cost. Some have been jealous!
Q. Have you learned anything surprising about orthodontics?
A. Yes – I've learned how a tooth that was removed years ago has ramifications years later. Also, that a tooth can be pushed back in – it's amazing!
Don't put up with crooked teeth. Book a consultation today to find out what your adult braces options are and start your journey to the smile you have always wanted.